We're Getting Mutants in the MCU - The Loop
Play Sound
 

Celebrity Big Brother 14

Series Information
Presenter:
Emma Willis
Broadcaster:
Channel 5
Series Run:
18 August, 2014 – 12 September, 2014
No. of Days:
26
No. of Housemates:
14
Winner:

Gary Busey

Runner Up:

Audley Harrison

Series Chronology
Previous:
Celebrity Big Brother 13
Next:
Celebrity Big Brother 15
Celebrity Big Brother 14 is the fourteenth series of the British reality television series Celebrity Big Brother. It launched on 18 August 2014 on Channel 5 and ended after 26 days on 12 September, 2014. It is the seventh celebrity series and the eleventh series of Big Brother overall to air on the channel. The series was officially confirmed on 3 April 2012 when Channel 5 renewed the show until 2014. Emma Willis returned to host the series. The series had the first ever American winner, actor Gary Busey, with professional boxer Audley Harrison finishing in second place.
Pre-series
Logo
The official new eye logo for the series was released on 6 August 2014. The logo is very similar to that of Big Brother 15, but with the iconic celebrity star in the centre.
Presenters
House
House
The house photos were released prior to the start of the series. The house had minimal changes made as the civillian series finished three days before.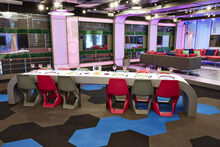 Sponsorship
The series was sponsored by SuperCasino.
Housemates
A total of 14 housemates entered the Big Brother House this series, the most since Celebrity Big Brother 5 in 2007
Housemate

Entered House/Left House

David McIntosh

Former Gladiators star & model

28, Altrincham, England

Day 1

1st Person Evicted

Day 10

Leslie Jordan

Will & Grace actor

59, Chattanooga, Tennessee, USA

Day 1

2nd Person Evicted

Day 12

Claire King

Emmerdale actress

51, Bradford, England

Day 1

Walked

Day 16

Angelique "Frenchy" Morgan

Rock of Love star

38, Las Vegas, Nevada, USA

Day 1

3rd Person Evicted

Day 17

Stephanie Pratt

The Hills star

28, Los Angeles, California, USA

Day 1

4th Person Evicted

Day 19

Kellie Maloney

Boxing promoter

61, Peckham, London

Day 1

5th Person Evicted

Day 19

Ricci Guarnaccio

Geordie Shore star

27, Newcastle, England

Day 1

6th Person Evicted

Day 24

The Only Way is Essex star

27, Essex, England

Day 1

7th Person Evicted

Day 24

Edele Lynch

B*Witched singer

34, Dublin, Ireland

Day 1

Sixth Place

Day 26

Dee Kelly

Benefit Streets star

43, Birmingham, England

Day 1

Fifth Place

Day 26

George Gilbey

Gogglebox star

30, Essex, England

Day 1

Fourth Place

Day 26

James Jordan

Former Strictly Come Dancing professional

36, Kent, England

Day 1

Third Place

Day 26

Audley Harrison

Olympic professional boxer

42, London, England

Day 1

Runner-Up

Day 26

Gary Busey

Film actor

71, Goose Creek, Texas, USA

Day 1

Winner

Day 26
Tasks
Nominations Table
Day 7
Day 10
Day 14
Day 17
Day 21
Day 26
Final
Gary
Not
eligible
Leslie,
Stephanie
Frenchy,
Kellie
Kellie,
Stephanie
James,
Ricci
Winner
(Day 26)
Audley
Not
eligible
Leslie,
Kellie
Frenchy,
Stephanie
James,
Edele
George,
Dee
Runner-up
(Day 26)
James
Not
eligible
Leslie,
Gary
Kellie,
Frenchy
Kellie,
Audley
Lauren,
Gary
Third place
(Day 26)
George
Not
eligible
Frenchy,
Gary
Frenchy,
Gary
Audley,
Gary
Audley,
Gary
Fourth place
(Day 26)
Dee
Not
eligible
Gary,
George
Frenchy,
Stephanie
Edele,
Gary
Gary,
James
Fifth place
(Day 26)
Edele
Not
eligible
Gary,
Frenchy
Frenchy,
Gary
Gary,
Kellie
Audley,
Lauren
Sixth place
(Day 26)
Lauren
Not
eligible
Gary,
Frenchy
Frenchy,
Gary
Gary,
Edele
James,
Edele
Evicted
(Day 24)
Ricci
Not
eligible
Gary,
Frenchy
Frenchy,
Gary
Kellie,
Gary
Gary,
Audley
Evicted
(Day 24)
Kellie
Not
eligible
Gary,
Leslie
Frenchy,
Stephanie
James,
Edele
Evicted
(Day 19)
Stephanie
Not
eligible
Frenchy,
Gary
Gary,
Kellie
Gary,
Kellie
Evicted
(Day 19)
Frenchy
Not
eligible
Leslie,
Audley
Ricci,
Lauren
Evicted
(Day 17)
Claire
Not
eligible
George,
Stephanie
Exempt
Walked
(Day 16)
Leslie
Frenchy,
Gary,
Kellie,
David,
Claire
Frenchy,
Gary
Evicted
(Day 12)
David
Not
eligible
Evicted
(Day 10)
Nomination
notes
1
2, 3
2, 4
2, 5
2
6
Against
public vote
Claire,
David,
Gary,
James,
Kellie
Audley,
Frenchy,
Gary,
George,
Kellie,
Leslie,
Stephanie
Frenchy,
Gary,
Kellie,
Lauren,
Ricci,
Stephanie
Audley,
Edele,
Gary,
James,
Kellie,
Stephanie
Audley,
Dee,
Edele,
Gary,
George,
James,
Lauren,
Ricci
Audley,
Dee,
Edele,
Gary,
George,
James
Walked
none
Claire
none
Evicted
David
Fewest votes
to save
Leslie
Fewest votes
(out of 4)
to save
Frenchy
Fewest votes
to save
Stephanie
Fewest votes
(out of 4)
to save
Ricci
Fewest votes
to save
Edele


Fewest votes


(out of 6)
James


Fewest votes


(out of 3)
Dee
Fewest votes
(out of 5)
Audley
Fewest votes
(out of 2)
Kellie
Fewest votes
(out of 4)
to save
Lauren
Fewest votes
to save
George
Fewest votes
(out of 4)
Gary
Most votes
to win
Nominations totals
Day 7
Day 10
Day 14
Day 17
Day 21
Total
Gary
1
8
5
6
4
24
Audley
1
0
2
3
6
James
0
0
0
2
3
5
George
2
0
0
1
3
Dee
0
0
0
1
1
Edele
0
0
4
1
5
Lauren
0
1
0
2
3
Ricci
0
1
0
1
2
Kellie
1
1
3
5
10
Stephanie
2
3
1
6
Frenchy
5
9
14
Claire
1
0
0
1
Leslie
N/A
5
5
David
1
1