Big Brother 3 was the third series of Big Brother UK. The series started on 24 May 2002, and ended on 26 July 2002. The final of this series drew 10.0 million viewers. Votes in the final week totalled 8.6 million.
Production
Broadcasts
The series premiered on 24 May 2001, on Channel 4. The contestants were recorded 24 hours a day with cameras fixed around the House, and had to wear portable microphones. Big Brother 3 was the first of the main series to feature a live launch. Previously, Celebrity Big Brother 1 had featured a live launch. The launch night saw Davina McCall give a house tour, as well as discuss rumours that had been going on about the series. She then introduced the new housemates, and they entered the house live. Channel 4 broadcasted a daily highlights show, and from the first week there was a live eviction show hosted by Davina McCall, where the evicted housemate was interviewed. In the nightly highlight episodes, viewers are shown various highlights of a specific day in the house. Big Brother 3 saw the return of the psychiatrists providing commentary on events in the game, with the episodes featuring them being the highlights show after the most recent eviction. The live eviction episode was held on Friday, with a pre-eviction episode and an official eviction episode being held with a 60 minute gap between them. The season ended on July 26, 2001, lasting for a total of 64 days. Big Brother 3 saw numerous spin-off series' occur while it was on air. The Saturday Night Live spin-off began this series, and saw housemates competing in live tasks. It would last until midway through Big Brother 5, when it was axed due to poor ratings. Though not introduced this series, the Big Brother's Little Brother spin-off continued throughout this series, giving the show it's second series. Following this series, the special What the Housemates Did Next aired, and would later air after every season until Big Brother 9.
Prizes
The fourteen housemates in the game are competing for the grand prize of £70,000. Each week, the housemates attempted to complete various tasks assigned by Big Brother in exchange for a weekly budget, which they used to buy food and luxuries; this included buying things such as alcohol and cigarettes. Big Brother 3, much like the previous series, did not feature luxury competitions or prizes throughout the series. Big Brother 3 did offer prizes to the housemates such as phone calls and video messages from home.
House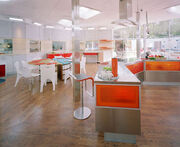 Big Brother 3 saw the series move to a different location, as Newham London Borough Council ordered the complex to be returned to a natural habitat after planning permissions expired in 2002 for the former House. The Big Brother House has been located at Elstree Studios, Borehamwood, Hertfordshire since Big Brother 3 onward. The house this season featured a completely different layout and look when compared to the two previous seasons. The house featured vibrant colours such as reds and oranges for both the walls and the furniture. This house was the first to feature stairs going from the front door to the house. On the launch night, host Davina McCall stated that there were numerous arguments over the sofa in the House, and that the one selected was the third to be placed in the House. The kitchen remained simple, with only necessities such as an oven, fridge, and sink. In the "Diary Room", in which housemates may speak privately and reveal their true feelings to the public, there is a more interesting look to it. The background of the room has the features the Big Brother logo of an eye in the background, with the chair this season big a bright red. Like the previous editions, there are two bedrooms this season, with Davina referring to one of them as the "uncomfortable bedroom." Like the last series, the men and women chose to sleep in separate bedrooms, though this was not required by the rules. Big Brother 3 saw the return of chickens in the backyard, which was also a feature used in the first two seasons. The chickens are used as a source to get eggs, thus housemates are not required to buy eggs as part of their shopping list. The house also features a garden, which the housemates use to grow plants and vegetables to eat. This season had a pool in the backyard, making it the first season in which one was provided. Before the season began, there were rumors that a twist this season would see two houses being former, however, Endemol confirmed that this was just a rumour. During the third to sixth week in the House, there was a large plastic gate separating the Poor and Rich sides of the House.
Housemates
12 housemates entered the House on Day 1, more than in previous series. On Day 7, Sunita walked. She was later replaced with Sophie on Day 10. On Day 20, Sandy escaped by climbing over the roof. Tim replaced him on Day 24.
Housemate
Entered House/Left House

Trainee Barrister

25, London

Day 1

Walked

Day 7

Art Student

36, Aberdeen

Day 1

1st Person Evicted

Day 8

Cinema Team Leader

27, Birmingham

Day 1

2nd Person Evicted

Day 15

Personal Shopper

43, Fife

Day 1

Walked

Day 20

Fitness Instructor

21, Leicester

Day 1

3rd Person Evicted

Day 22

Ski Shop Assistant

22, Cambridge

Day 1

4th Person Evicted

Day 29

Recruitment Consultant

24, Marlow

Day 10

5th Person Evicted

Day 36

DJ

23, Southport

Day 1

6th Person Evicted

Day 43

Student

22, Birmingham

Day 1

7th Person Evicted

Day 50

Tennis Coach

23, Worcester

Day 24

8th Person Evicted

Day 57

Dental Nurse

20, Bermondsey

Day 1

Fourth Place

Day 64

Model

23, Essex

Day 1

Third Place

Day 64

Firefighter

29, Trimdon

Day 1

Runner-Up

Day 64

IT Desk Administrator

22, Beckenham

Day 1

Winner

Day 64
Tasks
Week
Days Lasted
Task
Reward
Result
Week 1
Day 5
The housemates were told to each paint one of the dining room chairs however they wanted.
Passed
Week 2
Day 9
The housemates had to take a general knowledge quiz to win their shopping budget for the week. To succeed, they were required to answer seven out of ten questions correctly.
Shopping Budget
Passed
Week 3
Day 16
The housemates had to take turns in trying to shoot a basketball through a hoop. The first five housemates to score would live on the rich side.
Living on the Rich Side
Jonny,
Kate,
Lee,
Sophie,
Sandy
Week 4
Day 23
The housemates had to take turns throwing darts at a dartboard. The housemate with the best score at the end of the task would choose three housemates to join them on the Rich side of the House.
Alex,
Adele,
Jade,
Sophie
Week 5
Day 30
The housemates played a game of musical chairs in the Rich bedroom, with one housemate being eliminated each round. The last housemate remaining would select three housemates to join them on the Rich side of the house.
Alex,
Adele,
Jade,
PJ
Day 32 – Day 33
The housemates were given a new task in which they must learn two dances by the following night.
Garden Party
Passed
Week 6
Day 37
The housemates were given a "Memory Quiz" where they were each asked questions about the House in the Diary Room. They were told that if they all got their questions right, the divide would be taken down.
Living on the Rich Side
Kate,
Tim
Taking the Divide Down
Failed
Kate entered the Diary Room and was told that if she could name all of the housemates in alphabetical order then the divide would be taken down; failure would result in Kate being moved to the Poor side as well.
Failed
Day 39
The housemates were given a task of making sock puppets to represent the fourteen housemates that have appeared on Big Brother 3.
Passed
Week 7
Day 47 – Day 48
The housemates were given a new task, known was "Master and Slave," in which one housemate would be the master and the other would be the slave; the following day, the roles were reversed. Masters could demand slaves to do anything for them, with the slaves having to comply. Following this task, the housemates had to select the one housemate who they felt best played the role of the slave.
30 Minutes of Music
Kate
Week 8
Day 51
The housemates were given a quiz about one another as part of their weekly task. Each housemate was separately called to the Diary Room to answer three questions about their fellow housemates. All of the questions were based on answers given in their application form. For each correct answer, the housemates earned £25 for their shopping budget and five seconds added on to a phone call with a loved one, which one housemate would receive.
Shopping Budget
£200
Day 53
The housemates took part in a task in which had a roller disco theme. The second bedroom had been converted into a roller disco, and housemates had three minutes to put on their roller blades and pads and get on the floor each time a buzzer sounded. If a housemate failed to achieve this, it would count as a "no-show," and three strikes would mean that the housemates had failed the task.
70's Themed Party
Passed
Week 9
Day 57
The first part of the task was an obstacle course which they had to complete blindfolded. For the second part of the task, the housemates had to bet a proportion of the their money, on an egg and spoon race, and would bid on one of their former fellow housemates to win the race. They were shown a video of Spencer, PJ, Lee and Sophie racing, and had to bet on which of these housemates they felt would win; they chose to bet on Sophie.
Shopping Budget
Passed
Rich or Poor
Housemates
Week 3
Week 4
Week 5
Week 6
Kate
Rich
Poor
Poor
Poor
Jonny
Rich
Poor
Poor
Poor
Alex
Poor
Rich
Rich
Poor
Jade
Poor
Rich
Rich
Poor
Tim
Rich
Poor
Rich
PJ
Poor
Poor
Rich
Poor
Adele
Poor
Rich
Rich
Poor
Sophie
Rich
Rich
Poor
Spencer
Poor
Poor
Lee
Rich
Sandy
Rich
Nominations table
Week 1
Week 2
Week 3
Week 4
Week 5
Week 6
Week 7
Week 8
Final
Week 9
Kate
Lynne
Alex,
Sandy
Alex,
Sandy
Alex,
Jade
Alex,
Jade
Jade,
Alex
No
nominations
Tim,
Alex
Winner
(Day 64)
Jonny
Lynne
Sandy,
Alex
Sandy,
Alex
Alex,
Spencer
Alex,
Tim
Adele,
Jade
No
nominations
Tim,
Alex
Runner-Up
(Day 64)
Alex
Lynne
Jonny,
Alison
Jonny,
Lee
Spencer,
PJ
Jonny,
Kate
Jade,
Jonny
No
nominations
Jade,
Jonny
Third place
(Day 64)
Jade
Nominated
Jonny,
Alex
Lee,
Sophie
Banned
Sophie,
Jonny
Kate,
Tim
No
nominations
Tim,
Alex
Fourth place
(Day 64)
Tim
Not in
house
Exempt
Sophie,
Jonny
Jade,
Kate
No
nominations
Jade,
Jonny
Evicted
(Day 57)
PJ
Lynne
Alex,
Sandy
Lee,
Sophie
Alex,
Sophie
Sophie,
Adele
Adele,
Jade
No
nominations
Evicted
(Day 50)
Adele
Lynne
Alison,
Kate
Jonny,
Lee
PJ,
Spencer
Jonny,
PJ
Jade,
Jonny
Evicted
(Day 43)
Sophie
Not in
house
Exempt
Alex,
Sandy
Spencer,
Jade
Jade,
Tim
Evicted
(Day 36)
Spencer
Lynne
Alex,
Alison
Jonny,
Lee
Sophie,
Alex
Evicted
(Day 29)
Lee
Lynne
Jade,
Kate
Jade,
Jonny
Evicted
(Day 22)
Sandy
Lynne
Jonny,
Alison
Jonny,
Kate
Walked
(Day 20)
Alison
Lynne
Alex,
Sandy
Evicted
(Day 15)
Lynne
Nominated
Evicted
(Day 8)
Sunita
Walked
(Day 7)
Nomination note
See Note 1
No notes
No notes
See Note 2
No notes
No notes
See Note 3
No notes
See Note 4
Against
public vote
Adele,
Alex,
Alison,
Jade,
Jonny,
Kate,
Lee,
Lynne,
PJ,
Sandy,
Spencer,
Sunita
Alex,
Alison,
Sandy
Jonny,
Lee
Alex,
Spencer
Jonny,
Sophie
Adele,
Jade,
Jonny,
Kate
Kate,
PJ
Alex,
Tim
Alex,
Jade,
Jonny,
Kate
Walked
Sunita
none
Sandy
none
none
none
none
none
none
Evicted
Lynne
9 of 9 votes
to evict
Alison
38.52%
to evict
Lee
84.00%
to evict
Spencer
55.0%
to evict
Sophie
84.7%
to evict
Adele
62.08%
to evict
PJ
80.70%
to evict
Tim
81.48%
to evict
Jade
20%
(out of 4)
to win
Alex
27%
(out of 3)
to win
Jonny
42%


(out of 2)


to win
Survived
Jade
0 of 9 votes
Alex
38.44%
Johnny
16.00%
Alex
44.92%
Jonny
15%
Jade
36%
Kate
19.30%
Alex
18.52%
Kate
58%
(out of 2)
Sandy
23.04%
Jonny
1%
Kate
1%
Notes
Note 1: All the housemates faced the public vote this week. Jade and Lynne received the most votes. The remaining housemates then voted to evict one of the two, and they unanimously voted to evict Lynne.
Note 2: In week 4, Jade was banned from nominating, after discussing nominations.
Note 3: There were no nominations in Week 7. Kate and PJ were selected for eviction by drawing lots during the live Saturday task.
Note 4: Nominations do not take place in the final week, instead the public votes for which of the remaining housemates they want to win.
Nomination totals
Week 1
Week 2
Week 3
Week 4
Week 5
Week 6
Week 7
Week 8
Total
Kate
2
1
0
1
2
0
6
Jonny
3
5
0
4
2
2
16
Alex
6
3
4
2
1
3
19
Jade
0
1
1
2
2
6
2
14
Tim
2
1
3
6
PJ
0
0
2
1
0
3
Adele
0
0
0
1
2
3
Sophie
2
2
3
7
Spencer
0
0
4
4
Lee
0
5
5
Sandy
4
3
7
Alison
4
4
Lynne
9
9
Sunita
N/A
Community content is available under
CC-BY-SA
unless otherwise noted.