Big Brother 2 was the second series of Big Brother UK; it aired in the summer of 2001. The series had a much larger budget than the first; the House in Bow, London was renovated following the first series. Ten housemates entered the House on Day 1, and an eleventh housemate, Josh Rafter, entered on Day 16. The series was won on 27 July, 2001, by Brian Dowling.
Production
Broadcasts
The series premiered on 25 May 2001, on Channel 4. The contestants were recorded 24 hours a day with cameras fixed around the house, and had to wear portable microphones. Channel 4 broadcasted a daily highlights show, and from the second week there was a live eviction show hosted by Davina McCall, where the evicted housemate was interviewed. In the nightly highlight episodes, viewers are shown various highlights of a specific day in the house. The second series did feature the return of the psychiatric evaluations during a highlight episode, despite controversy surrounding their appearance during the premiere season. The live eviction episode was held on Friday, with a pre-eviction episode and an official eviction episode being held with a 90 minute gap between them. The season ended on July 27, 2001, lasting for a total of 64 days. Big Brother 2 was the first series to involve an interactive service, showing two live feeds, and two more with respective one and four hour time delays. This was not a 24-hour service, and the feed was stopped for a two-hour period every night, during which the show and another three programs aired. This series spawned two spin-off series, Big Brother's Little Brother and Big Brother Reveals More. The former of the two shares the title of a segment from the first season, though there are no similarities. It was presented by Dermot O'Leary during Big Brother 2. The program showed viewers some of the comments being made by those outside of the game, and often had interviews with evicted housemates, as well as friends and family of those still in the house. Big Brother Reveals More was a recap of the previous week, which summed up the major points of the previous week. It only aired during this series, and was not featured in any subsequent series.
Prizes
The ten housemates in the game are competing for the grand prize of £70,000. Each week, the housemates attempted to complete various tasks assigned by Big Brother in exchange for a weekly budget, which they used to buy food and luxuries; this included buying things such as alcohol and cigarettes. Big Brother 2, much like the premiere season, did not feature luxury competitions or prizes throughout the season.
House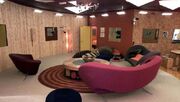 For the first two series, the House was located in Bow, London near to the 3 Mills Studios. The second series had a bigger budget, and the House used was renovated for a new look. Despite a similar layout to the original House, the decorations and furniture were completely different. The new House had a "Cabin fever" theme, as the format of the show was similar to the feeling of having cabin fever. With this theme, there were wooden walls throughout the majority of the House. There was a living room, where important news such as nominations were revealed to the housemates. The kitchen remained simple, with only necessities such as an oven, fridge, and sink. In the "Diary Room", in which housemates may speak privately and reveal their true feelings to the public, there is a more interesting look to it. The background of the room has the appearance of a garage door, with the Big Brother eye logo imprinted on it. Like the previous season, there is a men's and women's bedroom, each with five beds in them. One of the five in each room is larger than all of the others. Unlike the previous series, however, the men and women were allowed to choose which bedroom belonged to which gender. The outside of the house features a chicken coop, with seven hens and one rooster. The housemates must care for the chickens during their stay in the House, and must also use the eggs from the chickens to eat, otherwise they must use some of their budget to buy eggs. The House also features a garden, which the housemates use to grow plants and vegetables to eat. The housemates were later given a hot tub to use in the backyard, placed close to the garden. A new feature this year was the addition of the den outside, a small area in the backyard in which housemates could enter to lounge and speak to one another. There were no couches or seats, but there were various pillows scattered around.
Housemates
The second edition of Big Brother featured 11 housemates competing for the grand prize. Ten housemates entered on Day 1, while an additional housemate was voted in by the public on Day 16.
Housemate
Entered House/Left House

Teacher

33, London

Day 1

1st Person Evicted

Day 15

Communications Company Director

36, Oxfordshire

Day 1

2nd Person Evicted

Day 22

Medical Rep

28, Leicester

Day 1

3rd Person Evicted

Day 29

Warehouse Operative

24, Surrey

Day 1

4th Person Evicted

Day 36

Table Dancer

23, London

Day 1

5th Person Evicted

Day 43

Property Manager

32, London

Day 16

6th Person Evicted

Day 50

CAD Designer

25, Reading

Day 1

7th Person Evicted

Day 57

Website Designer

26, Cumbria

Day 1

8th Person Evicted

Day 63

Internet Entrepreneur

37, Birmingham

Day 1

Third Place

Day 64

Hairdresser

22, Cwmbran, South Wales

Day 1

Runner-Up

Day 64

Air Steward

22, Rathangan, County Kildare, Ireland

Day 1

Winner

Day 64
Tasks
Week
Days Lasted
Task
Gambled
Reward
Result
Week 1
Day 2 – Day 7
All housemates were required to build a fire in the backyard by noon, and had to keep it lit for a consecutive 120 hours - five days. The fire had to be watched by two or more housemates at all times.
30.0%
£49.00
Shopping Budget
Failed
Week 2
Day 9 – Day 13
The task for this week, for all housemates, was to learn first-aid. The housemates had to treat injured "people" on the assessment day.
60.0%
£112.00
Shopping Budget
Passed
Week 3
Day 17 – Day 20
All the housemates were given their new task which required them to learn ten facts about their fellow housemates.
40.0%
£98.00
Shopping Budget
Passed
Week 4
Day 23 – Day 27
All housemates had to adopt an individual dance and perform it on request from Big Brother at any time between 8am and 2am for 5 days. Each housemate would grab a partner when instructed, and would have 20 minutes to make it to the stage. Each housemate would pick a genre, and had to be outside for that genre. Each genre of music also had a specific dance move that the participants had to perform at least three times during the dance.
10.0%
£56.70
Shopping Budget
Failed
Day 27
All the housemates performed a task in which they had to design hats for one another.
Food and drinks
Passed
Week 5
Day 30 – Day 34
All housemates had to attempt to set a new Guinness World Record by the end of the week. There were four records total that they could break, and they would perform one task each day in an attempt to break the record. They would only pass the task if they broke one or more of the records.
10.0%
£61.60
Shopping Budget
Passed
Week 6
Day 37 – Day 41
For this weeks task, a dog, a white poodle named Paddy, would be released into the House for four hours every day. While Paddy was in the House, they were required to teach him tricks. They randomly selected eight tricks, which were the tricks they had to teach him. They were provided with a clicker and pieces of chicken to help train Paddy.
50.0%
£24.50
Shopping Budget
Failed
Day 38 – Day 40
All housemates were given the task of making a soap opera based on their time in the House.
Passed
Week 7
Day 44 – Day 48
All housemates were given the task to dismantle a drum kit, move it over an obstacle course, and then reassemble it. They were required to complete this task in eight minutes and fifteen seconds, otherwise they would fail the task.
36.4%
£57.21
Shopping Budget
Passed
Week 8
Day 51 – Day 55
All housemates were given the task of playing playground games. This included games such as skipping, riding a pogo stick, using a hula-hoop, and using a space hopper. The housemates had six minutes to complete the task this week.
40.0%
£21.00
Shopping Budget
Failed
Nominations table
Week 2
Week 3
Week 4
Week 5
Week 6
Week 7
Week 8
Final
Week 9
Brian
Helen,
Elizabeth
Stuart,
Helen
Paul,
Amma
Paul,
Amma
Paul,
Amma
Paul,
Josh
Paul,
Helen
Winner
(Day 64)
Helen
Bubble,
Narinder
Narinder,
Bubble
Brian,
Narinder
Bubble,
Brian
Josh,
Dean
Dean,
Josh
Dean,
Elizabeth
Runner-Up
(Day 64)
Dean
Narinder,
Penny
Narinder,
Paul
Paul,
Narinder
Paul,
Helen
Paul,
Amma
Helen,
Josh
Paul,
Helen
Third place
(Day 64)
Elizabeth
Penny,
Helen
Paul,
Stuart
Narinder,
Paul
Paul,
Brian
Paul,
Helen
Paul,
Helen
Paul,
Helen
Evicted
(Day 63)
Paul
Amma,
Helen
Amma,
Bubble
Brian,
Bubble
Amma,
Bubble
Amma,
Elizabeth
Brian,
Josh
Brian,
Elizabeth
Evicted
(Day 57)
Josh
Not in
house
Exempt
Narinder,
Bubble
Paul,
Bubble
Amma,
Brian
Brian,
Helen
Evicted
(Day 50)
Amma
Paul,
Penny
Paul,
Stuart
Narinder,
Paul
Paul,
Dean
Paul,
Josh
Evicted
(Day 43)
Bubble
Paul,
Penny
Paul,
Helen
Narinder,
Josh
Paul,
Josh
Evicted
(Day 36)
Narinder
Helen,
Bubble
Stuart,
Helen
Amma,
Bubble
Evicted
(Day 29)
Stuart
Penny,
Narinder
Amma,
Narinder
Evicted
(Day 22)
Penny
Helen,
Amma
Evicted
(Day 15)
Notes
See
note 1
none
See
note 2
Against
public vote
Helen,
Penny
Paul,
Stuart
Narinder,
Paul
Bubble,
Paul
Amma,
Paul
Helen,
Josh
Helen,
Paul
Brian
Dean
Elizabeth
Helen
Evicted
Penny
58.28%
to evict
Stuart
86.27%
to evict
Narinder
62.00%
to evict
Bubble
53.21%
to evict
Amma
64.18%
to evict
Josh
84.39%
to evict
Paul
83.51%
to evict
Elizabeth
2%
(out of 4)
to win
Dean
5%
(out of 3)
to win
Helen
39%
(out of 2)
to win
Survived
Helen
41.72%
Paul
13.72%
Paul
38.00%
Paul
46.79%
Paul
35.82%
Helen
16.61%
Helen
16.47%
Brian
61%
(out of 2)
Notes
Note 1: There were no nominations until Week 2.
Note 2: Nominations do not take place in the final week, instead the public votes for which of the remaining housemates they want to win.
Nomination totals
Week 2
Week 3
Week 4
Week 5
Week 6
Week 7
Week 8
Total
Brian
0
0
2
2
1
2
1
9
Helen
5
3
0
1
1
3
3
16
Dean
0
0
0
1
1
1
1
4
Elizabeth
1
0
0
0
1
0
2
4
Paul
2
4
4
6
4
2
3
20
Josh
1
1
2
4
8
Amma
2
2
2
2
4
12
Bubble
2
2
3
3
10
Narinder
3
3
6
12
Stuart
0
4
4
Penny
5
5
Community content is available under
CC-BY-SA
unless otherwise noted.