Big Brother 12 is the twelfth regular series of Big Brother UK and is the second series to air on Channel 5 and 5* after Celebrity Big Brother 8 that aired in August 2011.
Production
History and build-up
After Richard Desmond bought Channel 5, he said he was keen to acquire Big Brother.[10] Meanwhile, Endemol UK had been granted permission to keep the Big Brother House at the Elstree Studios, Hertfordshire, where it currently is until 30 September 2013.[11] On 2 April 2011, The Daily Star, a newspaper owned by Desmond, reported that Big Brother was returning on Channel 5 in August 2011 with a celebrity edition.[12] On 6 April 2011, Channel 5 formally confirmed that they had signed a £200 million two-year contract with Endemol to screen Big Brother from 18 August 2011. The skincare brand Freederm is sponsoring the series for a second year.[13]
Auditions
On 3 May 2011,[14] Endemol and Channel 5 officially opened the process for people to apply to be on the show. Open auditions for the Channel 5 series were held at Old Trafford in Greater Manchester on 10 and 11 June 2011. Auditions were also held in London on 18 and 19 June 2011 at the Emirates Stadium. All applicants had to attend the open auditions with identification to be considered for the series and had to be a legal resident of the UK or Ireland aged 18 or over by 31 July 2011 to audition for the show.[15] Big Brother 2010 winner Josie Gibson took part in filming at the London auditions meeting potential housemates.[16]
Trailers
From 23 July 2011, trailers announcing the imminent return of the celebrity version of the series were aired using Marcus Bentley's voice. Former housemates that featured in one of the trailers included Josie Gibson, Brian Dowling and Alex Reid. This coincided with the launch of the new eye logo for 2011. In the run-up to Celebrity Big Brother, the channel featured a promotional campaign under the slogan "When Bruv takes over" based on the David Guetta and Kelly Rowland song "When Love Takes Over". It featured a large cast of past housemates dancing and miming in the streets, finally meeting up in a park with CGI effects adding a fly-past with coloured smoke overhead. Break bumpers announcing the series were broadcast in the week running up to the launch along with a countdown to the launch day voiced by Bentley. Channel 5 also took out commercials on other channels, including ITV1 promoting the launch of the new series. The launch was also trailed heavily in the printed media, including an advertising blitz in the Desmond-owned newspapers and magazines and posters in town centres. In the second week of the celebrity version, trailers heralded the return of the main series on 9 September 2011.
Format
The format remains largely unchanged from previous seasons. The housemates are incarcerated in the Big Brother House with a strict rule of no contact with the outside world. Each week, the housemates take part in a major task that determine the size of the shopping budget, win luxuries and in some tasks, immunity from that week's eviction or power in the House. Nominations are normally carried out in the privacy of the diary room and are compulsory. Each housemate must nominate usually 2 of their fellow housemates to face the public vote and provide Big Brother with a reason for the nomination. "Voting to save" has been used for the public vote as opposed to the "vote to evict" method generally used in previous series. For the first time in the UK series, the show is accepting online voting for the public votes via Facebook Credits alongside phone voting.[17] A new feature involves showing a pre-record farewell message to the house from the evicted housemate shortly after their eviction. This feature was first seen when Pamela Anderson left the house after her stay as a houseguest. "Twists" are introduced to vary the routine, including visits by outsiders during tasks, messages from housemates' friends & relatives and variations to the nomination process, including relaxing the strict rule on not discussing nominations. In the 2011 series a film premiere was held in the house and a live edition of Big Brother's Bit on the Side was hosted from the garden with contact between the presenters and the housemates.
Presenters
Channel 5 confirmed on July 22nd that Ex- Housemate Brian Dowling (Winner of Big Brother 2 and Ultimate Big Brother would be presenting the main Big Brother show. Emma Willis, who presented Big Brother's Little Brother last year is returning to host a brand-new spin-off show, Big Brother's Bit On The Side
The House
Soon after Ultimate Big Brother it was revealed that Endemol had applied for planning permision for the Big Brother House to be kept at its current site at Elstree Studios in Borehamwood where every series of Big Brother has been since Big Brother 3 in 2002.
The main elements of the house design were inherited from that used for the previous celebrity series. Viewers first previewed the new Big Brother house during Celebrity Big Brother 2011 in preparation for the intake of regular housemates on the night of 9 September 2011. Differences include the walls bei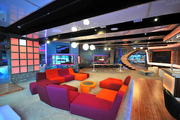 ng changed from a fish theme to a forest theme, the bedroom being made over with fresh textiles and gold mirrored furniture for the regular housemates. In the bathroom, the installation of transparent double shower cabinet with a frosted central band offers minimal privacy. There is a clear view of the shower's unclothed occupant from the house and garden but the frosting obscures the user's private parts from a clear view. There is a large central free-standing oval bath and with small pink and blue hand towels provided. The bathroom is mainly blue and pink with a sofa and clear view of the goings on from the living room and garden. Some of the house space was converted to create a luxury apartment for houseguest Pamela Anderson during her stay in the house. The luxury bedroom has since been used for a variety of tasks. The wall of faces in the living room was also changed on Day 3 with the new housemates' faces added. These turn blue to indicate the nominated housemates and red to indicate an evicted housemate or to mark that a housemate has walked, as happened with Mark. There are a number of spare spaces on the montage and on Day 29, one of these was filled by new housemate Jem's portrait.
The garden retains the oblong pool with wave facility used for Celebrity Big Brother with a bridge going across it. In Week 1, an artificial beach area was installed ready for the arrival of Pamela Anderson. This has featured in several outdoor tasks. There are areas of astroturf and decking, palm trees and an outdoor shower. Three leather sofas stand in an outdoor lounge area next to the "beach". This area which was first used to host Pamela Anderson's VIP party on launch night. There are doors leading to the sauna cabin, toilet and main house. There is also an area of rattan seating with cushions, throws and garden lanterns. This area has an artificial fire hearth which light up at night, decorated with logs and flames. The exterior walls and the interior of the house are decorated with simulated stonework.
On Day 39, Big Brother revealed the presence of the Crypt, a secret burial place for n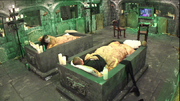 ominated housemates Jay and Anton who became 'ghosts' dead to the other housemates as part of the week 6 shopping budget task. It was located near the main house adjacent to the garden and was decorated with Gothic effect mouldings, gravestones, cobwebs, church candles and skeletons. The room contained two tomb-styled beds. From there, Jay and Anton could view and listen to their former housemates, eavesdropping on their conversations. However, they had to remain silent during their stay to avoid detection by their fellow housemates.
Spin-Off shows
This is the nightly spin-off show for Big Brother UK which made its debut during Celebrity Big Brother 2011 and continued throughout the run of Big Brother 2011. It alternated channels between Channel 5 and 5*, usually starting at 11pm and lasting an hour. The main host is Emma Willis with Alice Levine presenting at weekends. It mixes the styles of the previous spin-offs Little Brother and Big Mouth. Each edition includes a live audience discussion on events in the house with a guest panel and a variety of tongue-in-cheek features based on the main show. Regular contributors have included Jamie East and a number of celebrity and civilian ex-housemates including Vanessa Feltz, Pete Burns, Lauren Harries and Nikki Grahame along with some evictees from series 12. The show features clips of the previous day's action plus previews of the current day's events in the house. Breaking the traditional no outside contact rule, the show has featured the housemates answering viewer's questions. On Sundays, the show featured a quiz on the week's events in the house. The show's mascot is a canine 'security guard' who suffers from incontinence. The edition of 9 November was presented live from the garden in the Big Brother house with Willis and a number of outsiders addressing the final five housemates who also saw themselves appear in highlights from the previous weeks filming. This flouted the traditional house rule of complete isolation of the contestants from the world outside the Big Brother compound. However, the finalists were isolated from physical contact with the presenters as they were shut indoors behind glass for the duration of the show. The show returned with the launch of Celebrity Big Brother 2012 next January.
Live Feed
Channel 5 have confirmed that Big Brother will not be returning with a 24 hour Live Feed which transmits footage direct from the House live on either a Computer or a Red-Button service on TV. Instead they would be focusing on more interactive features on Facebook and Mobile Phones.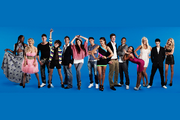 Housemates
Contestant

Entered House/ Left House:

Tashie Jackson
Singer/ Actress

21, Oxford, Oxfordshire

Day 1

1st Person Evicted
Day 8

Rebekah Vaughan
Hostess

28, The Wirral, Merseyside

Day 1

2nd Person Evicted
Day 15

Heaven Afrika
Holistic Healer

30, London

Day 1

3rd Person Evicted
Day 22

Mark Henderson
Sales Assistant

28, Berkshire

Day 1

Walked
Day 27

Maisy James
Store Assistant

19, Bromley, London

Day 1

4th Person Evicted
Day 29

Aden Theobald
Student

18, Enfield, London

Day 1

5th Person Evicted
Day 36

Anton Murphy
Musician

24, Bromley, London

Day 1

6th Person Evicted
Day 43

Jemma Palmer
Wrestler

25, Tamworth, Staffordshire

Day 29

Walked
Day 48

Harry Blake
Business Entrepenuer

23, Cheshire

Day 1

7th Person Evicted
Day 50

Faye Palmer
Wrestler

22, Tamworth, Staffordshire

Day 1

8th Person Evicted
Day 57

Tom O' Connell
Sales Assistant

21, Solihull, West Midlands

Day 1

9th Person Evicted
Day 63

Louise Cliffe
Model

26, Manchester

Day 1

4th Place
Day 64

Alex Rose Lee
Fast Food Crew Member

19, South Shields, Tyne & Wear

Day 1

3rd Place
Day 64

Jay McKray
Plumber

27, Newcastle upon Tyne

Day 1

Runner-Up
Day 64

Aaron Allard-Morgan
Contract Manager

30, Weston-Super-Mare, Someret

Day 1

Winner
Day 64
Weekly Summary
The main events from Week 1 to Week 9 in the Big Brother 2011 House are summarized in the table below. A typical Week began with nominations, followed by the shopping task, and ended with the eviction of a Housemate during the Friday episode. Evictions, tasks, and other events for a particular week are noted. The diary of happenings in the house are listed in order of sequence.
Weekly summary
Week 1
Tasks

Day 1: The housemates were given tasks to try to impress celebrity houseguest Pamela Anderson. Anyone who impressed Pamela received a golden swimsuit to wear at all times. Unknown to them, the golden swimsuit also gave them immunity from being nominated. Heaven won the first swimsuit at the launch night VIP party as Pamela found her the most entertaining guest.
Day 2: Pamela set the housemates a speed-dating task to impress her as best date in the sauna. Aden won the task and gained the second golden swimsuit, as Pamela found him the most datable housemate.
Day 3: Maisy won the third golden swim suit after winning the Baywatch-themed endurance competition in which all except Heaven and Aden competed in red swimsuits in the garden beach area.
Day 4: Rebeckah won a golden swimsuit for being the most impressive housemate during the 'Pick me Pamela' task judged by Pamela, Heaven and Maisy in the garden. However, she had to replace one of the three winners with herself and that housemate would lose their immunity from being nominated. Rebeckah chose Aden.
Day 6: Housemates competed in a 'Battle of the Brains' shopping task. Part 1 involved the housemates divided into 'boys' and 'girls' teams dressed in school uniforms. They had to calculate sums on blackboards using fish stuffed into barrels of stinking fish paste. The boys won, gaining control of the shopping list. Part 2 involved them answering two general knowledge questions at £50 for each correct answer. The boys team won the house a total budget of £350.
Alex won her individual secret task to walk 2 miles around the house. She won a luxury basket of cosmetics for the female housemates.

Punishments

As a punishment for failing the 'Battle of the Brains' task, the females were given a lunch of 'brain food' which consisted of tinned sardines on toast while the males ate sushi for lunch. For failing the overall task, the females had to wear 'pea brain' hats and face a gunging with 'brain sick' by members of the men's schoolboy team. The 'schoolboys' spun a wheel with the female's faces on it and when it alighted on a victim, they had to throw buckets of the brain sick over the selected female.
After the Battle of the Brains task, the men's schoolboys' team were admonished by Big Brother for throwing the buckets of brain sick about against the house rules. The housemates faced a £350 budget for shopping following the deduction of £50 for this breach of task rules.

Entrances

Mark, Maisy, Aaron, Heaven, Tom, Tashie, Aden, Alex, Harry, Rebeckah, Anton, Faye, Jay, and Louise entered the House on Day 1. They were joined by celebrity houseguest Pamela Anderson, who was waiting for them in the garden.

Exits

Pamela Anderson left the house on Day 4.
Aaron, Harry, and Tashie were nominated to face the public vote on Day 4. Tashie became the first person to be evicted from the Big Brother House on Day 8, having received the fewest votes to save.

Week 2
Tasks

On Day 9, the housemates took part in an endurance task called 'Clucking Hell' which involved them dressing up in chicken suits and sitting in a chicken coop for as long as possible. At certain time intervals, housemates would be provided with popcorn in a trough, which they then had to eat in an allotted amount of time. Harry won the task after having sat in the coop for nearly nine hours. As a reward, he was immune from the week's nominations and the public vote.
Day 10: Faye conducted an individual secret task called 'Diss and Kiss' to find herself a date. She had to insult each male housemate and get them to give her a kiss. She chose Aaron with whom she shared a 'hot' dinner date.
Days 12-13: For this week's shopping task, in a 2 day long task called "Say Yes!", housemates were required to say "Yes" to everything Big Brother asked them to do, if they said "No", they failed automatically. Mark said "Yes" to wearing nothing but a tiny flesh-coloured pair of briefs for the day and he passed. Alex said "Yes" to getting a spray tan. However, she had to endure three further spray tans, totalling four which gained her a pass.Anton and Maisy accepted the task of Maisy wearing a lycra shock suit, and having Anton "electrocute" her; they then swapped roles and passed. Harry turned down a Gay Times photoshoot and failed. Rebeckah agreed to making Mark lose all his house possessions, leaving him with just his underpants. Aaron and Louise completed a 'one night stand' task involving them standing back-to-back in the garden at night until Big Brother said to stop.
Day 13: In Part 2 of the shopping task, Faye refused to have a tattoo saying "Yes" on her arm once she saw its size on a rubber stamp fake tattoo and failed. Tom said "Yes" to a haircut but declined a challenge to have a short back and sides and failed. Jay accepted the task of eating whole roast chickens, eating three in total. Aden said "Yes" to a task involving ignoring his girlfriend, Rebeckah. Heaven accepted the task of bungee jumping above the garden. Aaron and Louise said "Yes" to the offer of a "one night stand" involving them standing back-to-back in the garden for a predetermined amount of time. At the end of the group task, they were given a code to the safe which revealed that the maximum number of fails allowed was five. They said "No" twice to an offer to watch the nominations but as the housemates said "Yes" to at least 8 of the 13 tasks, they received a luxury shopping budget as their reward.

Punishments

On Day 9, as punishment for tampering with cameras and fixtures and for throwing Aaron's mattress into the pool, Big Brother punished the housemates by taking away the hot water, hair appliances and banning alcohol. They had to have cold showers during this period.
On Day 12, as punishment for Harry and Anton discussing nominations, Big Brother extended the ban on hot water.

Exits

Heaven and Rebeckah were nominated by their fellow housemates to face eviction on Day 11. Rebeckah was evicted on Day 15, having garnered the fewest votes to save.

Week 3
Tasks

Day 16: The housemates completed a 2 part group task called 'Top Trumps'. Part 1: Rating other housemates on categories by placing stickers in confidential survey sheet and rating qualities with percentage, writing 3 metres apart from each other. Part 2: Team captains: Aaron and Anton, revealing scores on personal qualities of housemates when velcro removed. Each team member had to spin a wheel with the housemates' photographs on it. When it stopped, they had to choose a quality of their own which they felt they would beat their opponent's scores. The winners were Aaron, Tom, Faye, Alex Harry and Mark; and their prize was a luxury party later that evening. The losers were Anton, Louise, Heaven, Aden, Maisy and Jay who were left out of the party.
On Day 17, the housemates were challenged to a task called 'Meal shakes' in which they had to guess two classic meal combinations combined in milkshakes. The winners were Tom, Harry, Anton and Aden who won a luxury formal dinner with wine.
For this week's shopping task called 'Man vs Beast' housemates were tested with their bravery as they went head to head with a supposedly real gorilla (the gorilla was actually impersonator Peter Elliott in the suit). The housemates were each given a toy gorilla to cuddle and give to the gorilla to transfer their scent to it. The gorilla then had to decide which housemate should take part in the first challenge, which involved passing a ball back and forth. The housemates then chose who would face the gorilla in the next two challenges, which involved taking a picture with the gorilla and dressing up as one and gaining the ape's trust. Each task passed would gain 30 seconds for the final task, which involved grabbing as many of the four hundred bananas that were scattered in the garden within the allotted time, while the gorilla 'roamed free'. Each banana grabbed would equal £1 towards the shopping list. In addition, two toy monkeys were also scattered in the garden; picking them up would add £50 to the shopping budget.
On Day 20, the housemates completed a group task challenging them to clean up the house dressed in white boiler suits while dancing to piped music.
On Day 21, Louise won her individual secret whoopee cushion task to "fart" 3 times in front of the housemates to earn a dinner date to eat chips and gravy with Jay.
On Day 22, the housemates were set a diary room betting task linked to a party poker game with the two surviving housemates after the Friday eviction. The same day, Alex won the group a barbecue after passing a task involving a quiz about her knowledge of the Barbie doll character.

Exits

Aaron, Aden, and Heaven faced the public vote to save this week. Aaron and Aden were saved and Heaven was evicted on Day 22.

Punishments

As punishment for discussing nominations, Anton had to wear a sticker over his mouth and Maisy had to wear a hessian sack; each item had "I MUST NOT DISCUSS NOMINATIONS" written on it.

Week 4
Tasks

On Day 23, Anton was appointed 'King of the House' for his birthday. As part of this task, Big Brother fooled him into believing that his pop music single had topped the chart, backed up with fake interviews. The housemates had to keep up the deceit and obey all his demands of them as King, however humiliating. The housemates obeyed all the King's orders and won a luxury birthday party with champagne and chocolates with Anton performing his "winning" single in the garden. At the end of the task, Big Brother revealed to Anton that his track had not been released and he realised that he had been subjected to a practical joke. As a reward for completing the task, the housemates were given a party in the garden.
On Day 24, Big Brother set the eleven housemates a fast food based task called 'Speed and stamina' involving them wearing fat suits, wigs and make-up to look like portly truck drivers. As there was an odd number of housemates, Aden did not compete and served the burgers from a fast food hut. They had to pair up and eat as many mini-burgers in three minutes as they could while racing round a track in the garden. The winners were Anton and Jay who ate 12 burgers. Anton dressed as a cheeseburger and Jay as a hotdog as winners of the task. They had to keep the outfits on in order to win some cans of beer as their reward.
On Day 26, the housemates faced the 'Toy Factory' task in which they must assemble toys, teddy bears and assemble packs of playing cards in the correct order of the pack in order to win a shopping budget of £300. As 'bossiest' housemate, Jay was appointed as factory manager charged with keeping the workers in order, with Anton and Aden appointed as his deputies. The factory workers' normal food was taken away and replaced with a factory canteen serving the workers meagre rations while the management sat in their office, eating luxury food and playing snooker. The workers had to produce a quota of each toy in order to win a full luxury shopping budget. Tom and Maisy were secretly tasked to produce individual targets in order to earn enhanced bonuses towards the shopping budget. The workers disrupted the task by throwing the toy components and cars around and having water fights in the factory. However, they passed their three toy-making quotas and passed. They won a total £500 luxury shopping budget thanks to Tom making the largest number of dolls during his secret mission.
On Day 27, Harry continued with the shopping task pranking by ordering 500 bananas, food colouring, 50 large chocolate bars, 50 litres of milk, 50 bottles of ketchup, 50 boxes of cereal and no alcohol which annoyed Jay.

Entrances

On Day 29, Faye's sister Jem entered the house becoming the fifteenth housemate.

Exits

On Day 25, Faye and Maisy were nominated for eviction with each receiving 6 votes.
On Day 27, Mark left the house voluntarily by walking after stating that he felt trapped, bored and could no longer cope with the routine in the house, the arguments between housemates and being filmed 24/7 on camera.
On Day 29, Maisy became the fourth person to be evicted after receiving the fewest votes to save.

Punishments

On Day 24, Jay and Anton were punished by Big Brother by having to wear a hotdog and hamburger suit respectively as a twisted 'reward' for winning the Fast Food Task in order to win drinks for the housemates. They were eventually allowed to remove the outfits and drink the beer, having endured the suits for several hours on an unusually hot autumn day.
On Day 26, as Boss of the factory, Jay 'sacked' Aaron and Harry by making them 'redundant' for misbehaving during the Toy Factory shopping task.

Week 5
Tasks

Day 30: Faye and Jem were called to the diary room where they faced a secret task to build a ' House of Cards'. The other housemates danced to piped music and had to press a red button when, unknown to them, a fan would blow on the house of cards sabotaging the sisters' task. However Faye and Jem completed the task and won the housemates a take-away meal after almost a week's diet of bananas and cereal.
On Day 31, the housemates faced a fairground style task called "Let's Get Smashed". They were called to the garden where there was a grid containing 25 prizes and punishments. Each Housemate took it in turns to throw a juggling ball at the square of their choice, winning a treat or a punishment. Jem won a gym session which she chose to share with Jay, Tom won a date with former housemate Rebeckah, Aaron won a cuddly toy, Harry won a phone call home, Jay won a bunch of bananas, and Aden won his bus fare home. Alex 'won' a crockery and cutlery ban for the housemates - they had to hand all the plates, cups and cutlery in to Big Brother. Anton won a book token, Louise won a dinner for two. For Faye's 'prize', Big Brother revealed all the housemates who had previously nominated her for eviction. The group sat and watched their nominations played out on the plasma and they also saw Faye's nominations for her fellow housemates to date.
Day 33: 'Stranded World' snowbound shopping task to win a luxury food budget with housemates divided into rescuers and the stranded. Part 1 was a 'rescue mission' led by Jay, Louise, Tom, Aden and Anton with the 6 other 'stranded' in the large task room in a fake snowstorm. The taskroom and garden were decorated as an alpine scene. Jay had to do static 'skiing' for 30 minutes on an skiing machine to rescue Alex, using only the sun to estimate the time taken for the task. He failed the task, stopping skiing 10 seconds short of the required time. Next, Louise had to eat five bowls of yellow snow in the diary room and guess the flavours. As she correctly guessed 3 out of 5 flavours, she passed, thus rescuing Alex. Next, Tom had to have a snowball fight with a Yeti (a man in a costume) to free Aden from the 'Stranded World'. He won, so rescuing Aden. Anton had to climb 1344 metres on a step machine disguised as 'Mount BB'. He completed task and Faye was free to leave the 'Stranded World' room. A total of 3 housemates had to be rescued to pass the shopping task. The remaining three housemates were to have remained trapped in the large task room overnight and were given a survival kit of basic rations including sugar cubes, instant noodles and apples. In order to access these emergency supplies, Faye, Aaron, Jem and Harry had to work out the combination to a lock based on the clue given by Big Brother in a silver envelope found inside a hatch. Big Brother's clue to the correct combination was "Jem's age (28) / the number of people whom Aaron had snogged", viz. (Tom+Faye+Maisy = 3) giving the number 2803 which opened the lock and allowed them to get the rations. The remaining three 'stranded' housemates walked from the task room, failing the task.
Day 34: Tom and Alex decided to organise their own task involving the other housemates hunting for balls made from coloured socks hidden around the house. Aden won the game collecting the most socks. As a reward, Big Brother invited the pair into the diary room where they were invited to dance to the Macarena song; they were left to dance to the same tune played continuously for 2 hours.
Day 35 Task: 'Reveal the Meal' group task to win meals in TV gameshow format. In the garden, each housemate stood at a plinth on which a silver serving cloche rested containing a silver envelope which they had to open to reveal a meal. Each dish was displayed on a gameshow style board and every time they opened an envelope, they eliminated an option, e.g. fish and chips, beans on toast until only one option was left. Aden won, turning down Big Brother's offer to swap his winning dish for a luxury pasta dish and a phone call from Rebeckah instead of a meal for the housemates. He opted to keep the reward of pizza and beer for all the housemates to enjoy at dinner.
Day 36: Harry won a luxury food hamper for the house by passing a 'Poshness' test, scoring 93 per cent after answering a variety of questions successfully including 'do you play polo?'. However, he failed to identify a port glass and also failed to tie a real bow tie correctly.

Entrances

On Day 31, Rebeckah entered the house as a guest dinner date with Tom for a task prize.

Exits

On Day 32, Aaron, Aden, Anton, Faye and Jay had the most nominations from their fellow housemates and therefore half the house will face the public vote this week.
On Day 36, Aaron, Faye, Jay and Anton were saved from eviction. Aden was evicted.

Punishments

On Day 34, Big Brother told the housemates that they had failed the 'Stranded' task due to the stranded housemates leaving the large task room prematurely against the task rules. The rescuers had successfully passed their mission and won a luxury shopping budget. However, due to the escape, the house lost the luxury shopping budget and instead had an economy budget of £100 for the following week.

Twists

On Day 32, Big Brother informed the housemates that they were allowed to discuss nominations this week.
New housemate Jem was excused from nominations and eviction for her first week in the house.
On Day 33, during the shopping task, Big Brother outed Jem's actual age as 28, not 25 as she had previously stated.

Week 6
Tasks

Day 37: Task: 'Love Letter Bombs'. Each housemate received a 'love letter bomb' from their loved ones at home. Each letter was contained in a booby-trapped mail box with sticks of 'dynamite' on top. In order to reach the letter, they had to cut the correct coloured wire on the 'letter bomb' with the supplied wire-cutters. The correct wire, A, B or C was identified by answering a multiple choice question on the plasma based on what other housemates had said about each other. If they cut the correct wire, the mailbox opened, releasing their letter. If they cut the wrong wire the 'dynamite' exploded and the letter was destroyed. They were called randomly to be told that their letter had been activated by Marcus Bentley who gave them a countdown to detonation. To prevent this, they needed to cut the correct wire. Winners: Alex, Jay, Louise, Faye, Aaron, Tom, Jem, Anton. Loser: Harry.
Day 38: Diary room 'Peg on your Face' task. Winner: Aaron pegged 47 pegs on his ears and face, rewards: trophy and champagne. Rest of prize reveal on Day 39.
Day 39: Anton and Jay entered the Crypt to participate in the week's coming series of twists and horror-themed tasks.
Day 40: 'Don't Scream' task. The 'living' housemates were awoken and told they must not scream more than 3 times to avoid losing a luxury food budget. However, unknown to them, the task rule was that they must scream more than 3 times to pass. From their tomb in the crypt, 'dead' housemates Jay and Anton were tasked to choose from a selection of pranks including: a monster's hand coming out of a hatch, a demon in the diary room, spider webs in the halls, dead bodies in the hallway, one of which grabbed a housemate's leg, a haunting in the storeroom, a ghost of a little girl. Louise was subjected to a shower of blood and greeted by a demon in the diary room and let out a scream. Harry was confronted by one his fears, spiders and grabbed by a werewolf's hand but he did not scream. Faye was not phased by the ghost of a little girl in the diary room passage and she did not scream. Aaron screamed at the sight of a zombie springing to life as he left the diary room. Alex entered the diary room after an attack on nerves and screamed at the sight of ex-housemate Tashie's head on a caged dog. Therefore, Louise, Alex, Tom and Aaron all screamed, exceeding three screams. They therefore passed the 'Don't Scream' task and won a luxury food budget for the week.
Day 41: Task: the housemates were told they must prove themselves most entertaining to Big Brother to win a place at the film premiere of Paranormal Activity 3 taking place in the Big Brother house on the night of Day 41. In fact, Jay and Anton had to judge the four lucky housemates to win seats at the movie preview, viewing them from their crypt. Housemates failing to entertain Jay and Anton were Alex, Harry and Faye. The winners of the seats were Aaron, Louise, Jem and Tom. They joined a number of ex-Big Brother housemates and stars at the red carpet preview night.
Also on Day 41, it was revealed that Jay and Anton passed their side of the Scream task, having managed to get more than three housemates to scream during their time as emtombed ghouls.
Day 42 Faye and Jem did a burp task to win alcohol. They were given fizzy drinks and had to burp in Aaron's face no more than 15 times.
Day 43: Tom was called to the diary room by Big Brother and set an individual task. His challenge was to wind up Harry to the point of explosion with a series of pranks of his own choice in order for Harry to win back his letter from home. (Harry lost this in the 'Letter Bombs' task.) Tom successfully passed but as he did not receive the explosive reaction needed from Harry, 48 per cent of letter was concealed.

Exits

Day 39: Jay and Anton received the most nominations, but in a twist, exited the main house and entered 'The Crypt' as ghosts, lying low in a secret hidden room adjacent to the garden. Their 'exit' was indicated when their faces changed to red on the lightbox. They returned to the main house on Day 41 during a fake "seance" in the Crypt.[21] Anton and Jay rose from their tombs and had one minute to nominate two other housemates for eviction as part of the week's twist. Anton nominated Jem to face the public vote while Jay nominated Harry.
Day 43: Anton, Harry, Jay and Jem faced the public vote to save. Harry, Jay and Jem survived. Anton left the Big Brother house having been evicted with the least votes to save.

Punishments

On Day 41, as a forfeit for failing to entertain hidden housemates Jay and Anton, living housemates Alex, Hary and Faye were obliged to dress as zombies and could not attend the film premiere, having to look on from behind the bathroom window. Each task loser had to lie in a grave in the garden with a tombstone marked "RIP" and rise from the grave to became the 'living dead' for the duration of the VIP evening. To add to their humiliation, during the winners' visit to the film premiere, Jay and Anton wrecked the house while Alex, Faye and Harry listened to a ghost story in the task room.

Twists

Day 39: As a result of receiving the most nominations, Jay and Anton were told they were up for an instant exit and told to pack their suitcases. However, they were in fact relocated in a secret room in the house campus dubbed 'The Crypt'. From there, they were able watch the rest of the housemates on a plasma (similar to the 'Bedsit' in Big Brother 5). Big Brother told them that they must remain hidden from the other housemates and be 'dead' to them until their return to the main house on Day 41. They returned to the house on Day 41 when they had one minute each to nominate two other housemates for eviction in a further paranormal twist, choosing Jem and Harry. Both the latter were saved by public vote on Day 43 and Anton was evicted.

Week 7
Tasks

Day 44: 'Let it row' endurance challenge task in garden on rowing machines. They dressed as old-style Varsity rowers in blazers, white shorts and moustaches with coloured neck ribbons to indicate their teams. Team Steel: Harry, Faye, Jem (blue ribbon) and Tom v. Team Butch: Louise, Alex, Jay and Aaron (red ribbon). They competed to view four housemates' audition tapes. Finalists: Jem and Alex. Winner: Alex after 8 hours 3 minutes, after Jem quit. Alex chose Harry, Tom, Faye and Aaron's audition VTs for the others to view on the plasma screen.
Day 45: Task: 'Distraction'. The task was to solve a drawing puzzle by drawing a continuous line on a clear screen, keeping it in between the two squiggly lines resembling a maze with dots marking the start and finish. If a Housemate went outside the lines or lifted the pen off the sheet, they incurred a 10 second penalty. An actor stepped into the diary room to cause a 'distraction', according to the likes or sensitivities of the participant. Jem won the task with the time of 30 seconds. This included a 10 second time penalty for drawing outside the line. She was rewarded with a session with a beautician for her and another housemate of her choice; she chose her sister Faye to join her.
The housemates were also set a silent dancing challenge for which they were rewarded with some piped music played into the house.
Day 47: Shopping task: 'Place your bets'. Louise, Jay and Jem were chosen as the group's most observant housemates to place bets in the task room converted to a betting shop. They bet on the outcomes of five individual housemate's tasks which were set throughout the day. This gave them a chance to swell the shopping budget. Tasks included a successful wager on how many chocolate balls Alex could eat (she managed 21). They passed the task and gained a shopping budget of £300.
Day 48: Task: Cinnamon shots: Big Brother gave the each of the housemates a teaspoonful of cinnamon powder in a shot glass which they had to down in one go without spilling it or spitting it out. 3 out of 7 housemates managed this, passing the task. As a reward, they gained a 90s themed rave party with party wigs and glowsticks.
Day 49: Task: 'Get in the Ring' wrestling' wrestling contest. Big Brother set up a wrestling ring in the garden with Aaron acting as referee. The housemates were given accessories to create silly costumes and wore coloured socks. Each pair pitched a male v. a female housemate, the object was to grapple the opponent and remove their socks. Overall winner Tom, winners of the rounds were given a prize of an Indian takeaway and a luxury food hamper. As a bonus, Tom won a cucumber.
Day 50: Big Brother called Louise to the Diary Room and asked 7 her questions about the housemates' attitudes to money, following the display of the £100 0000 prize fund in the living room. Louise answered four out of seven questions correctly, winning the housemates drinks.

Exits

On Day 46, nominations took place by housemates' relatives rather than the normal process. Aaron and Jem were nominated to face the public vote.
On Day 48 Jem walked and the initial public vote was cancelled. The remaining nominated face a fresh public vote alongside Aaron: Jay, Harry and Faye.
Day 50: On eviction night, Aaron, Faye, Harry and Jay faced the vote to save. Harry was evicted with the smallest proportion of the vote to save.

Punishments

On Day 45, For coming last in the 'Distraction' task Alex faced a sanction to have to make all the unmade beds in the house.

Twists

On Day 46, in a major twist, nominations were given by the housemates' family members and partners.

Week 8
Tasks

Day 51: Cleaning task, Tom was given an individual task to tell the housemates to clean up the house. In order to pass the task he had to avoid helping with the cleaning duties without being found out. Aaron guessed that he was on a task, resulting in a fail.
Chipmunks task: the housemates dressed in oversize chipmunk costumes. Each took turns to go into the small task room and choose one of six pop songs distorted to sound like a chipmunk. The other housemates had to guess the songs and the more songs they guessed, the better the party would gain as a prize, the worst being a peanut party. They guessed all six songs and won a 'Giant Brazil nut' quality party, the best grade on offer.
Day 53: 'Egg roulette' task. Winners: Alex and Louise who won a roast chicken dinner for two.
Day 54: Acting task 'Love Story'. The six remaining housemates paired up as 'couples' to imimitate the pairings that have formed in the house.
Day 55: Shopping budget task: 'It'll be all white' set and supervised in person by celebrity cleaning expert Kim Woodburn who visited them as a houseguest. The housemates were award a luxury shopping budget of £300 and given pristine white outifts for the day to celebrate. However, they were instructed to keep the outfits as clean as possible and faced a reduced shopping budget as a forfeit to staining the outfits. During the day, they faced a series of booby-trapped challenges designed to deliberately stain their white outfits. E.g. Alex had to carry a tray of alcohol-free "Virgin Mary" cocktails in tall glasses while negotiating a series of hurdles covered in wet paint. Kim also inspected the house and demanded the housemates clean up the house thoroughly before her return. At the conclusion of the task, Woodburn returned to the house and inspected the housemates' efforts and scrutinised their clothing for stains. Tom, Jay and Aaron passed; Alex, Louise and Faye failed. Big Brother deducted £50 per fail, reducing the shopping budge to £150. However, Kim used her discretion to award them a bonus of £50 for their cleaning efforts around the house, leaving the housemates with a total of £200 for the week's shopping budget.
Day 55: Big Brother set notorious swearers Jay and Tom a task called 'Soap Mouths'. They were told they must not swear more than five times in order to win some drinks. However, Aaron was set a double bluff counter-task to make them swear more than five times by winding them up with insults, a task which he accomplished as they swore 7 times, winning the house some drinks.

Exits

On Day 52, nominations were conducted a day early, face-to-face in a pre-Halloween twist. The housemates to face the public vote to save from eviction are Faye and Louise.
On Day 57 Louise and Faye faced the public vote to save. Faye drew the fewest votes and was evicted.

Punishments

On Day 52, during the Halloween nominations task, housemates who spoke out of turn were given an extra electric shock.

Twists

On Day 52, nominations took place on a Sunday dressed up in Halloween outfits and the housemates sat in electric chairs in the garden. They had to nominate face-to-face and the nominees received an electric shock.
On Day 57, a twist to the prize fund was announced after the money that had been displayed in the house for several days was removed. The prize fund of £100,000 was split into two, with the winner promised £50,000. The remaining £50,000 will be split between the five finalists as revealed to them on Day 58.

Week 9
Tasks

Day 58: Big Brother told housemates they had 5 hours to assign the divided fund of £50,000 between each other as follows: £30,000, £15,000, £4,000, £990 and £10. The wrote the amounts on pieces of paper and drew lots from a hat to assign the money as follows: Alex £30,000, Jay £15,000, Louise £4,000, Aaron £990, Tom £10. However they all agreed to split the money equally after the show.
Day 58 also saw Big Brother set task called 'Pass the Dare'. In this, the housemates were given a parcel which they had to unwrap one layer at a time in the style of the party game, 'Pass the Parcel', revealing a dare. The five housemates had to do a series of individiual dares and challenges on each other. They passed the game, winning some alcohol.
Day 59 saw a task designed to win Alex and Tom a birthday party (Alex's birthday fell on 6 November and Tom's was the next day). Aaron was called to the diary room and charged with ensuring that the birthday party Big Brother had planned for them was a surprise. Alex and Tom were first challenged to a Macarena marathon on a small stage in the garden. They had to get on stage and dance within 30 seconds of being called by Big Brother. They next had to eat all the ingredients involved in making a birthday cake including flour, eggs and candles. Finally, they had to be wrapped in gift wrapping paper as a parcel while the housemates prepared for their surprise party. This was revealed to Alex and Tom once they were unwrapped.
Day 60 was Tom's birthday. The day included a task involving the housemates dressed in bodysuits covered in balloons and negotiating a hazardous assault course in the garden. This included being assailed by clowns wielding pins to pop the balloons and a net barbed with rose thorns and holly. They won individual rewards including presents, music and gifts.
Day 61 saw the housemates get head-to-toe makeovers with the professional hair and beauty treatments of their choice. Aaron opted for a full body waxing the females had facials and new hairdos. This was in preparation for an OK! Magazine photoshoot later in the day.
Day 62's task was 'The Housemates' Housemate', won by Alex.

Exits

Tom was evicted with the fewest public votes on Day 63.
Day 64 was the Finale. Louise was evicted first, finishing in fourth place followed by Alex who came third. Jay lost out to the winner, Aaron who left with the £50,000 prize plus £990.

Punishments

Louise was given a warning by Big Brother for the housemates having slept in the bedroom out of the designated rest times. As a reprimand, the bedroom was locked until the housmates went to bed.
Jay received a formal warning from the producers after making comments about Aaron against house rules following a row over Alex and Tom's birthday presents.

Twists

Day 58: Prize fund twist and task (details above).
On Day 62, the housemates were informed of the surprise pre-Finale eviction twist; Tom left on Day 63.
Nominations table
Week 1
Week 2
Week 3
Week 4
Week 5
Week 6
Week 7
Week 8
Final
Week 9
Aaron
Tashie,
Anton
Heaven,
Rebeckah
Anton,
Aden
Jay,
Anton
Anton,
Jay
Anton,
Jay
Jem,
Jay
Louise,
Tom
Winner
(Day 64)
Jay
Harry,
Aaron
Rebeckah,
Heaven
Maisy,
Heaven
Faye,
Mark
Aaron,
Harry
Jem,
Tom
Aaron,
Faye
Faye,
Aaron
Runner up
(Day 64)
Alex
Anton,
Tashie
Heaven,
Maisy
Anton,
Aden
Maisy,
Faye
Aden,
Anton
Anton,
Aaron
Faye,
Jem
Jay,
Faye
Third Place
(Day 64)
Louise
Tom,
Alex
Maisy,
Rebeckah
Maisy,
Aaron
Maisy,
Faye
Faye,
Aden
Harry,
Faye
Aaron,
Harry
Faye,
Aaron
Fourth Place
(Day 64)
Tom
Louise,
Harry
Rebeckah,
Maisy
Aden,
Aaron
Aden,
Maisy
Anton,
Aden
Anton,
Louise
Aaron,
Jem
Louise,
Jay
Evicted
(Day 63)
Faye
Harry,
Aaron
Heaven,
Rebeckah
Aaron,
Heaven
Anton,
Aaron
Anton,
Jay
Anton,
Jay
Harry,
Aaron
Alex,
Louise
Evicted
(Day 57)
Harry
Aden,
Tashie
Rebeckah,
Aden
Heaven,
Tom
Faye,
Maisy
Jay,
Anton
Anton,
Jay
Jay,
Jem
Evicted
(Day 50)
Jem
Not in
House
Exempt
Anton,
Jay
Aaron,
Harry
Walked
(Day 48)
Anton
Mark,
Aaron
Heaven,
Rebeckah
Aaron,
Heaven
Faye,
Maisy
Aaron,
Faye
Alex,
Jem
Evicted
(Day 43)
Aden
Alex,
Tom
Heaven,
Tom
Heaven,
Aaron
Aaron,
Faye
Aaron,
Faye
Evicted
(Day 36)
Maisy
Alex,
Mark
Alex,
Mark
Mark,
Aden
Aaron,
Mark
Evicted
(Day 29)
Mark
Anton,
Tashie
Rebeckah,
Maisy
Maisy,
Aden
Aden,
Maisy
Walked
(Day 27)
Heaven
Harry,
Tashie
Faye,
Jay
Aaron,
Maisy
Evicted
(Day 22)
Rebeckah
Harry,
Aaron
Jay,
Heaven
Evicted
(Day 15)
Guest
(Day 31)
Evicted
(Day 15)
Tashie
Harry,
Aaron
Evicted
(Day 8)
Guest
(Day 40)
Evicted
(Day 8)
Against
public vote
Aaron,
Harry,
Tashie
Heaven,
Rebeckah
Aaron,
Aden,
Heaven
Faye,
Maisy
Aaron,
Aden,
Anton,
Faye,
Jay
Anton,
Harry,
Jay,
Jem
Aaron,
Jem
Faye,
Louise
Aaron,
Alex,
Jay,
Louise,
Tom
Anton,
Faye,
Harry,
Jay
Walked
none
Mark
none
Jem
none
Evicted
Tashie
Fewest votes
to save
Rebeckah
Fewest votes
to save
Heaven
Fewest votes
to save
Maisy
Fewest votes
to save
Aden
Fewest votes
to save
Anton
Fewest votes
to save
Harry
Fewest votes
to save
Faye
Fewest votes
to save
Tom
Fewest votes
(out of 5)
Louise
Fewest votes
(out of 4)
Alex
Fewest votes
(out of 3)
Jay
Fewest votes
(out of 2)
Aaron
Most votes
to win
Community content is available under
CC-BY-SA
unless otherwise noted.